I've now been a resident of South Africa for 9 months.  I have come a very long way – there are still eons and light year ahead.
I have had a chance to experience the truth that we humans are far more adaptable than we think.
Adapting to Left Hand City Driving
I can still vividly remember my sense of anxiety and terror just a few months ago when pulling out onto the roads but now I do it with – mostly – unconscious skill.  Only when I am lost and confused (fairly often) do I have to consciously stop myself from driving on the right side of the road.  I do still sometimes attempt to climb in the wrong side of the car but there is minimal danger in that.  Most importantly I have learned to give the white taxi vans plenty of room and to expect the unexpected from them.
In many ways I have adapted, however, adaptation and understanding are two different things.
For reasons I don't understand, these white van are not subject to the same laws of the road as other drivers.  Taxi drivers travel on the shoulder, stop suddenly to pick up or drop of in the middle of the road; push their dented and often poorly maintained vehicles in front of the legal and orderly traffic lined up in the turn lane and they park where ever they please.
In addition, people hop on and off in the middle of the street so one never knows what to expect when in the vicinity of a taxi van.
See I know what but I don't know why.
The taxi system works by a series of hand signals.  The passenger standing on the street raises one or more fingers and points in a specific direction, up, down, sideways, to indicate the desired route.  If the passing taxi can accommodate, the driver will stop – suddenly in the far lane, wait for the traffic jam the driver just caused to clear – and make his way to the curb to pick up a new passenger.
I do not know this hand single system.  I have asked but I don't trust the answers and the guide book says merely – "Ask a local."  It doesn't matter; I have no cause to take a taxi van because …. we bought a car!
Buying a Car
Simple economics told us to stop renting a new car every month and buy one.
The purchasing process was easy.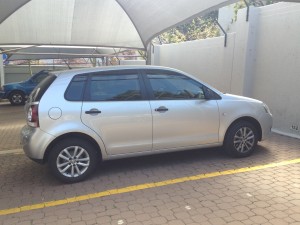 I walked into a dealership, told them what I wanted and, when one came in, the sales person called me.  They even drove the car downtown so Steve could test drive it from his office.
Working with the dealership was a breeze.
The actually paper work and financial maneuvering involved was not so easy.
Now that I am an expat I have discovered that countries are very reluctant to let go of their currency and, if the letting go involves South Africa, they are loathed to do so.
To move the large but not staggering sum of money we needed to buy our very basic car, it took three banks, well over a month and many phone calls.
Bank #1, a small local Virginia bank, did not have a SWIFT number. So I had to transfer the money to a larger US bank.  This process can be done on-line but takes time.  You know the drill: set up the link, wait 3 to 7 business days, verify two small deposits, transfer the money and wait another 3 to 10 business day on the other side.
I did check with Bank #2 before I moved the money.  We talked about the process of wiring the money to my account in South Africa.  The person I talked to assured me the transfer process, while expensive, was not complicated. However, once the money was in my account in Bank #2 and technically available for me to use, I was told the bank would no longer process international transfers over the phone.  According to these new rules, changed in just the last two weeks, I must now come into the bank or have a cashier check mailed to me.
Right!  I have NEVER received a piece of mail at my home address here in Jo'burg.   In fact, the property manager will not allow the Post Office on to the property.  The mail system is: the resident's mail is delivered to the guard station at the entrance. The mail for all 179 units is held in a bucket. It is not sorted by the guards who sit in the station watching people come and go and it is never delivered to the individual units.  If it is not picked up by whoever takes the time to sort through the mail, then the mail eventually disappears. I am told it is not sent back to the post office and, according to the property manager, it would be illegal to destroy it, so who knows what happens to it.
Clearly sending a cashier's check would be a very bad idea.
I explain this to Bank #2 but they are unmovable. If I don't want it mailed, I must show up in person.
By now our sales person is getting panicky. She has our car hidden away where no one can find it and sell it out from under us but her month end is coming and we haven't paid for it.
On to bank #3.  I find a bank that will do international transfer over the phone: open a new account, set up a link between accounts, verify the deposits, transfer the money, wait the days, answer phone calls from both banks wondering why money is flying in an out of our accounts based on instructions from South Africa and, when the money is finally available, transfer it directly to the dealership, to avoid the additional days of waiting for the money to transfer between South African accounts.
Three days later the dealership calls to say they have a deposit for the amount I owe but I must prove the money transferred from a US bank in the exact amount I owe is actually the money I transferred.  This "proof of payment" is common here in South Africa but there is no equivalent process in America.
I end up sending a snap shot of my bank statement and, though this doesn't really prove anything, they accept it as proof that the money they have is the money I sent.
Meanwhile
I am tasked with getting a "traffic registration number".
I will not relate the number of trips I made to different offices, each a dark and depressing version of the American DMV before they discovered the magic of customer service.  I will not detail the letters and documents and photographs I had to produce, including a letter from Steve stating that we were not only married but actually living together in the same house.
I will tell you that this project revealed something to me I'd been wondering about because it gives an insight into the constant state of ignorance I live in.
I had been to the complex where the traffic office is located several time to visit the public library – also a dark and depressing place with dusty books with yellow pages – each time, as I turned into the parking lot   (oops I mean "car park") a man would jump out from the curb and pantomime taking a photograph. I had no idea what he was trying to tell me so I would just smile, politely shake my head and keep driving; which is what I now do for all street vendors who approach me.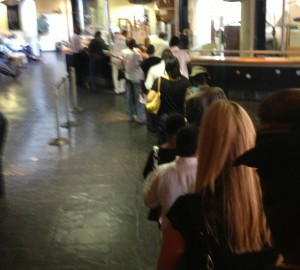 His intentions became clear when I showed up to wait in line at the traffic office. I watched as a number of applicants were turned away from the window because they did not have two passport size photos. To these surprised and now annoyed people the gruff and grumpy clerk would mumble – "outside the gate". That is how I learned the man with the picture taking pantomime was there to provide official photographs to the unprepared.
There is a shadow economy in South Africa.
It Is Not All Dark and Depressing
I know I have indicated that government offices are dark and depressing.  And the stories of violence and crime in South Africa give a picture of a grim county but Johannesburg is not, generally, dark and depressing; in general Johannesburg is clean and almost always sunny.
Though clearly the government does not have the money they need to maintain government services, in many ways Johannesburg is a first world city.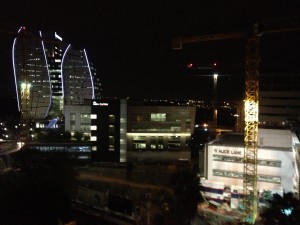 Caveat: I know I am privileged to see only the first world part because I am a rich American expat wife living in the richest neighborhood in Johannesburg, perhaps the richest neighborhood in Africa, and protected from too much exposure to the third world side of this city and country which I know is vast and horrible. I have stories to tell about the less savory parts of this country too but at another time.
For the next few posts I want to show you the first world that I frequent every day.