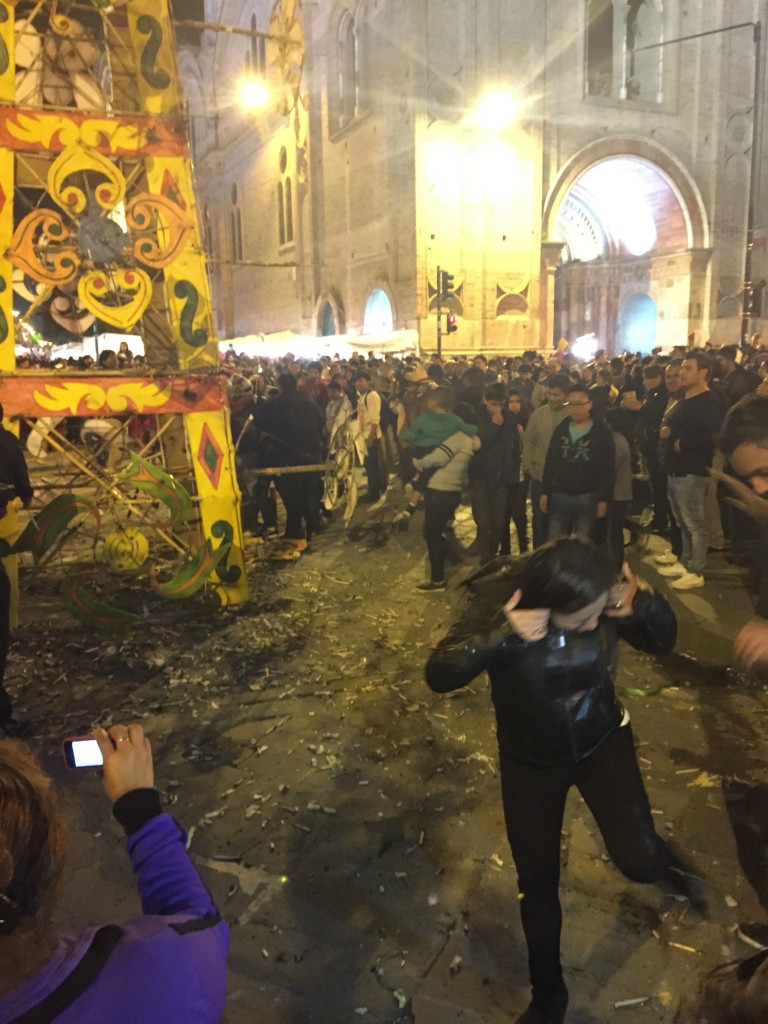 Once again we've landed in the middle of a national festival we don't understand.  This particular holiday celebrates the defeat of the Spanish in a battle on the volcano, Pinchancha, in 1822.
We assumed, wrongly, that the holiday would be on May 24 but it turns out the holiday was actually celebrated on Friday, May 27.  To allow for a long weekend.
Friday evening, having left the music venue and headed home, we found ourselves walking through a thick crowd of people in the plaza.  As the crowd grew almost impossibly thick, I noticed they were all facing the same direction toward a 15-foot-tall structure.  My mind had just observed this and I had just said to Steve, "Do you think something is about to happen?" When the structure exploded with fireworks: whistles and pops, sparks and smoke, cinders, color and light shooting this way and that for fully five minutes.
For Americans from a nanny state where our safety is mandated, we were far, far too close to this eruption.  It went on for about 5 minutes shooting hot cinders and sulfurous smoke in all directions.  We were trapped in a crowd with nowhere to go.  All we could do duck and wait it out hoping that everything went as planned.
When it finally played out.  Dancers in animal costumes came out from somewhere and began dancing around the now tattered structure.
We didn't stick around after that.  To suddenly find oneself in the middle of a battle you don't understand, even a recreated battle, is disconcerting. I was vividly remained that I am a foreigner and whatever I think I understand; I am probably wrong.  So keep my eyes open and pay attention.