We are just back from (another) weekend at a safari lodge; this time we traveled with 25 members of Steve's workplace team.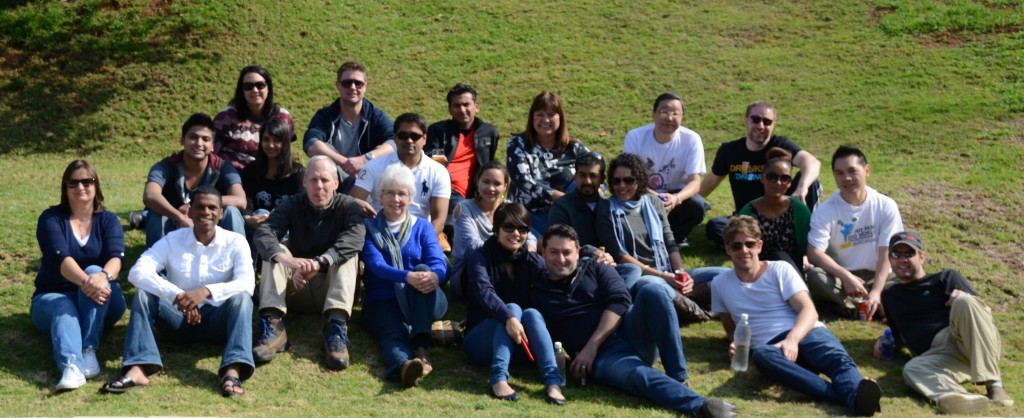 I know you all will be terribly excited to hear I saw a Pangolin!
"A what?" you say?
A pangolin. A rare, very small and very controversial anteater.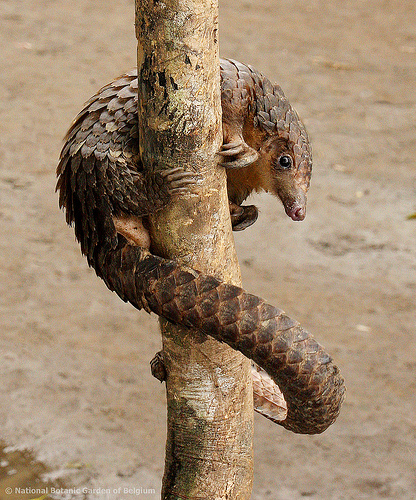 Pretty Exciting Stuff.
A rare opportunity.
A moment to remember forever.  A pangolin!
When our guide, Becca, heard that the  the reserve ecologist  had a pangolin in his truck she was so excited she backed us into a tree in her hurry to catch up.
This, she declared, is a once in 50 year opportunity.  "You will never get a chance to see this again."
Apparently this particular small, rare, secretive, nocturnal ant eater had been captured by a poacher outside the reserve and was on its way to becoming Chinese medicine.  However someone had reported it to the park and the park ecologist had come to the rescue of this particular little guy.  This pangolin was about to be released in the reserve to continue its rare, secretive, nocturnal life unmolested.
As we "guests" huddled around to partake of this once in a lifetime opportunity, the park ecologist mumbled angry complaints about the Chinese whose medicinal practices support the killing of rare African animals like pangolin and rhinos.  When he saw one of our party was Asian (oops), he began describing in detail the crude tortures involving ants and honey he would have liked to inflict upon the poacher.
Personally, I think the poacher, no doubt an African native, was probably already feeling very bad about the large fortune that has just slipped thought his fingers. A kilogram of pangolin scale sells for $175 on the black market.
Being small, secretive and noturnal has not saved this anteater from controvery.
The Chinesse believe the dried scales of the pangolin  are useful:
To invigorate blood and promote menstruation
To promote lactation
To reduce swelling and dispel pus
Others, many others, condem wildlife trafficing.  Recently a Chinnes vessel ran into a coral reef off the Phillpines and officials discovered over 2000 dead pangolins on board.  The crew faces 20 years in prison for trafficing a protected species, attempted bribery and damaging the reef.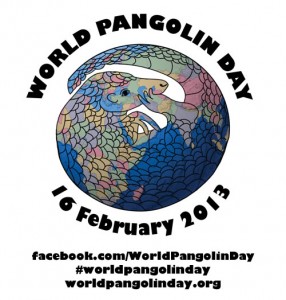 Those who condemn wild life trafficking have a petition you can sign to pressure the Chinese government to enforce laws against illegal importation of pangolins.
Notice my PC efforts to refrain from judging anyone's culture.  That is one of the things I am learning here.
Tracking (NOT Trafficing) Animals
One of the other things I am learning is the allure of tracking animals in the wild.  We've all seen photos like the ones Steve has taken and I have put into the video below.  What you can't see is the effort that goes into catching up with these animals.
Rise and Shine
To see these animals we responded to a 5:30 am wake-up call and were on an open jeep and on our way by 6:00 am.  Remember, May in South Africa is equivalent to November in the North.  While the weather is generally lovely, in the morning, before sun rise, the temperature is about 40 degrees.  Riding in an open vehicle through the dark is decidedly cold.
Driving for game is a random game.  African animals are designed to be hard to see.  If they are lying down in the grass, they blend in with the brush and the grass.  One could trip over them and only then – too late – realized they've run into a pride of lions. That is why "guests' like us are not allowed to get out of the jeep.
To see one of the "big five" one really needs to catch them on the move and, since they move much of the time, being in the right place at the right time is a lottery.  Once you have made the commitment to get up and go on the drive, you are in the hands of fate, though a good guide is a big help.  Maybe you will see something proud and majestic, then again, maybe you will ride for three hours in the cold watching the sun come up, the birds fly, the impala and wildebeest graze but never see a lion, an elephant or a leopard.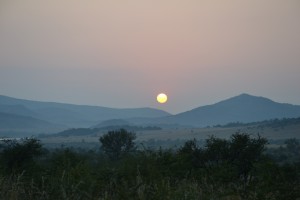 Not that watching the sun come up over the African bush is a waste of time.
Back at the lodge there will be a hot and hearty breakfast and time to compare sightings.  In this case we had a good guide and saw all five: lions, buffalo, leopard, rhino and elephant.  Though both the buffalo and leopard were so far away we couldn't get a good photo.  Still, we are not complaining: we are taking our bragging rights because the other car saw nothing proud and majestic at all.
What's on Your Bucket List?
Let me describe the routine at an African Safari Lodge with the ulterior motive of luring you to South Africa to experience it for yourself.
After the morning drive and the hearty breakfast, the day is free.  Optional activities vary however there is usually a spa and a pool and more food.  There is lunch and tea.  After tea, at about 4:00, there is the evening game drive, a warmer affair but less likely to produce sightings.
On our evening game drive we chased a leopard, keeping in touch with its location through radio contact with the other guides.  We came close, we could hear it but we never saw it.
As it grew dark, we returned to the lodge for dinner stopping to appreciate the once-in-a-lifetime pangolin sighting.  As luck would have it, the car behind us spotted a leopard on the road right behind us.  They get the bragging rights.
After dinner there is a fire and camaraderie with the other guests.  The next morning, if you have agreed, there is another 5:30 am wake up and another game drive.
Sound like something you should do?  I hope so.
Please comment and let me know when you might like to come to Africa.  I will be happy to show you around.