It's been just over a week since we arrived and we are still very much in the process of figuring it out.
 

Figuring it out in a foreign county consist of three essentials: sleeping, eating and getting out.

 

Here are my first impressions.
The Condo (Sleeping)
Everyone asks about our accommodations. Perhaps because we've had untoward experiences before this.  But, in this case, we landed on our feet.  This brand new condo located in the center of town – but not on the noisy street – is really very nice.
We found this place through some people we met while we were in Spain.  The negotiations from Spain were stressful and, yes, I was worried before we arrived but it all worked out just fine.
The place is listed on VRBO. Where you can see more pictures but here are a few of us living in the condo on a Sunday afternoon.
The Markets (Eating)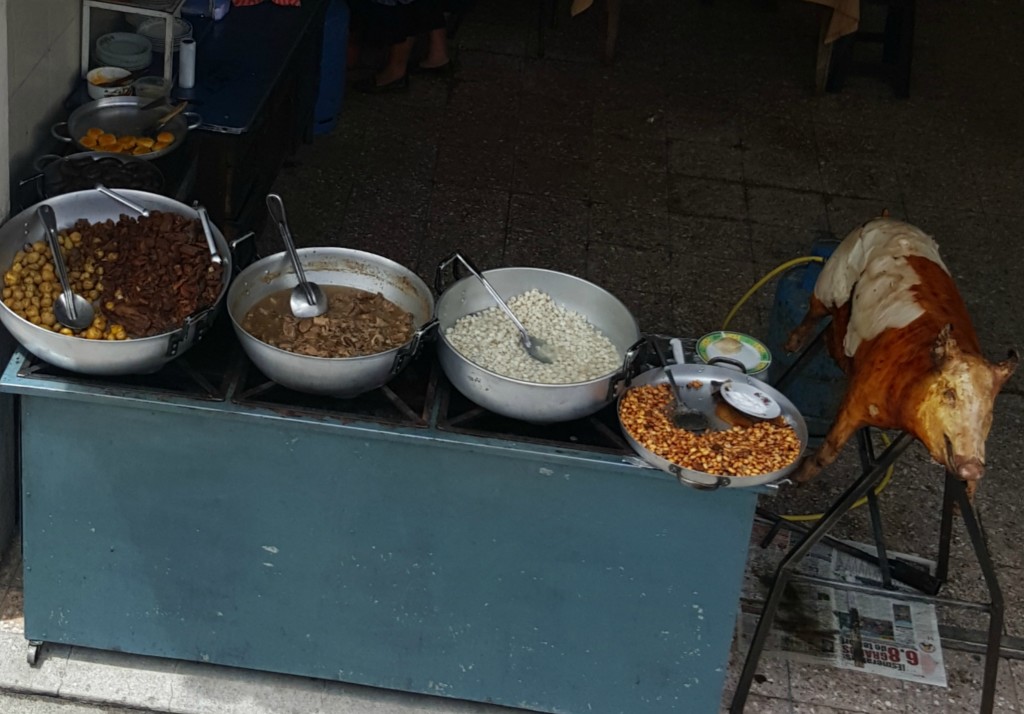 The closest supermarket is about a mile away, walking along the Tomebama River and through a park. Unfortunately, though I suppose I will get used to it, the return is up a very long set of stairs.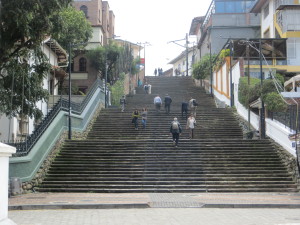 There is an "indigenous" market right down the street but in these early days I find it to be overwhelming. To my eyes it is full of unfamiliar fruits and vegetables, whole roasted pigs, and pots of food I can't name.  I will initiate myself slowly.
There is another, larger market in town where, I hear, the Norte Americanos shop but it is a 30-minute walk away.  To get there we can either take a bus (at a cost of $.25 for me and $12 cents Steve) or hail a cab.  We just haven't managed that yet. It was on my to-do list but, as perhaps I should have expected, I've been ill.  The traveler's stomach issues I am working though have worked havoc with my exploring this new place.
The Weather (Out and About)
The weather is comfortably warm but the sky is rarely clear.  The clouds pass from morning to night, some settle on the surrounding mountain tops, some bring rain, some are just lovely.  But we never know which is coming next. Which is why we always carry an umbrella.
The best part of the weather here is that it is consistent and it is neither too hot or too cold.  Steve rarely complains about being too cold and I am rarely too hot.  This puts to rest one of our long standing arguments.  Though we have found others.
Since these first impressions I have done and learned a thing or two more.  Check out my other posts.