Last week was my birthday and I am happy to report that, despite my old age, I survived my "Amazing Race" through India.
Not, however without a certain level of wear and tear.
Being a mature American woman traveling through tourist sites in a poor country brings expectations.  Mostly expectations about how much money is available to be shared with the artisans, beggars, service providers and opportunist who cross our path.
We: myself and Sue and Kate, two friends from Virginia, raced through north India stopping in five different cities in 10 days: Varanasi, Agra, Jaipur, Udaipur and Mumbai. The only time we stopped moving was when we entered a shop and then, try as we might, it was very difficult to break away and get back on the road: unless, of course we bought something.
All the many young men working in the shops were charming and solicitous.  They would not dream of selling to us, instead they eagerly presented their remarkable workmanship (and it was remarkable) for our appreciation. Bevies of silent young men scurried around rolling out carpet after carpet, draping us in emeralds and rubies and silk.  Other young men served us tea or beer and in general made tremendous efforts to be sure we were "happy".  Happiness for tourist such as we being defined as owning  an emerald bracelet, a handmade carpet, yards of bright silk or an marble table inlaid with semi precious stones all custom finished and delivered free to our doorstep.
In each city we visited we had a driver and a guide.  When we finally managed to escape into the hot, dusty, noisy and crowded streets of India our guide, who, we learned, receives a commission on our purchases, would suggest another fascinating demonstration of local craftsmanship: camel leather shoes, (no left or right!) block printing on cotton, pashmina shawls, miniature painting.  Each city has it's own specialty and our tour would not be complete without a thorough introduction to each art form.
We did eventually learn to just say no, but it took a while since the words for high end tourist shop when translated from Hindi are apparently: museum, demonstration, palace, bazaar and cottage industry, never "shop".
When not being made happy by the opportunity to purchase something, we viewed endless stone carvings and elegant rooms decorated with mirrored tiles in various forts and palaces.  It was, to my egocentric American point of view, remarkable to see the building that was going on in India while our fore fathers were planting the first tobacco seedlings along the shores of the Chesapeake.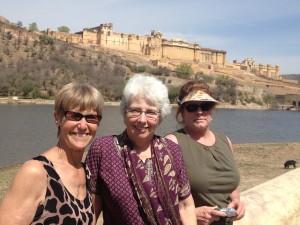 Of course the beauty of travel is not the stone carvings we saw or the emeralds we wore however briefly but the atmosphere we absorbed and the adventures we had while moving from place to place.
Varanasi
After a grueling 3 plane, 24 hour trip from Joburg, my first stop in India was Varanasi a 6000 year old holy city; a place of pilgrimage for three religions.  Let me tell you, you know you are not in Kansas anymore the first time you see an ash covered, naked holy man walking down the street.
It was here in Varanasi I viewed cows and mongrel dogs foraging in the garbage between the scared cremations fires.  It was here we learned that the chest bones of men and the hip bones of women are dense and will not burn. So they are thrown into the Ganges!
It was here we watched the pilgrims participate in nightly Hindu ritual of dancing young men, ringing bells, chanting and dancing with fire.  I understood nothing except the ambiance of religious devotion. When the music stopped and the Brahmins began to leave I watched a sari clad old woman reverently raise a peacock fan used in the dance to her lips.
I've seen similar reverence in my own upbringing as a Catholic.
But Christianity and Hinduism are very different.  Hindus have 38 million gods; Christians only have one.  As I learned the history of India, I saw how religions with multiple gods: Hindus and Roman pagans, are historically much more tolerant than religions with only one: Christian and Muslims.  According to my guides, when a temple or an object of art dating back to 500BC was destroyed it was not the ravages of the ages but most often the Moguls or later the Portuguese using violent destruction in an attempt to impose their one god on a conquered people.
How could I grow to be so old and know nothing about this ancient culture, this history, this religion?
After the culture shock of Varanasi the Amazing Race began.
The Worst Train Ride Ever
Still sleepless following my flight to India, I endured a long overnight on the worst train ever.
Allotted only a narrow top bunk with the entire bottom level being occupied by non
English speaking strangers, I was forced to haul my mature backside up into a windowless and narrow bunk where what few amenities there were: water bottle holder, hooks for clothing, were all sharply broken.  As the train rattled slowly toward Agra, I lay awake all night watching cockroaches scuttle along the walls and worrying about the inevitable moment when I would have to use the toilet.
This train ride was definitely the low point of the trip.
Agra
Agra is the famous home of the Taj Mahal, one of the seven wonders of the world. In one of the ironies of travel, it was here at this famous tourist site where I was finally overcome by lack of sleep and Delhi belly. I recovered quickly but I did miss the tour of the Taj Mahal.
Jaipur
Another train ride, shorter and cleaner than the first, and we find ourselves in Jaipur, the pink city.  This stop was to be the focal point of our trip but here we encountered another irony of travel.  Our trip planner and mastermind, Sue, planned the entire adventure around being in Jaipur on March 26 to witness the Elephant festival.  Much to our surprise and dismay, we read in the morning newspaper that, at the last minute, the elephant festival we had traveled all this way to see had been canceled due to pressure from PETA.  There will never be another elephant festival.
Holi in Jaipur
So, we find ourselves in Jaipur for the Indian Festival of Colors, Holi with no particular plans.  But with the serendipity of travel we met with angels.  Our driver Kishan Singh invited us to celebrate the festival of colors with his family at his home.
It was a wild and wonderful time.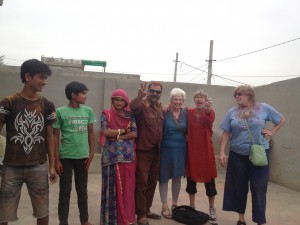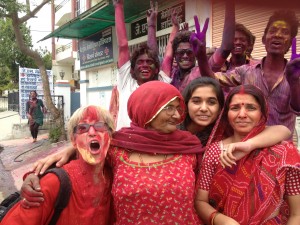 Then back to our hotel to clean up and wait for our late night train to Udaipur.
Udaipur – the City of Lakes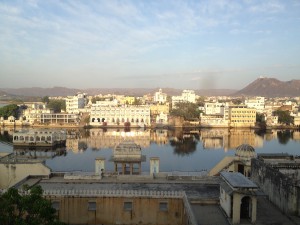 My favorite city by far!  Beautiful, especially at night, safe streets, crowded with young travelers.  The ancient narrow streets ring with the sounds of bells from the Hindu Temple and the Muslim call to prayer.  The lakes are dotted with floating palaces.  The hills are decorated with forts and temples; the king, no longer in power since independence in 1949, still lives in a portion of the palace.  The rest of the Monsoon Palace is now a 5 star hotel.
Last stop Mumbai
We stayed in a basic, no frills hotel just behind the 5 star hotels made famous by the 2008 terrorist attacks by Pakistani militant organization where nearly 500 people, were either killed or wounded.
The evidence of fear is still very much alive in the area. We had to pass through am airport level security scanner just to buy a cup of coffee at the Starbucks!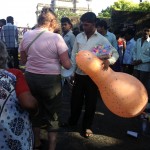 In general, the tourism industry in Mumbai lacked the charm of the smaller towns. In Mumbai Street vendors display a remarkable persistence. Persistence is a positive character trait in the abstract but an annoyance in practice.  In Mumbai we were often surrounded by vendors offering jewelry, postcards, or balloons.  Even a direct request to "go away" did not relieve us of their presence.  The result was the deal we made for postcards or balloons were usually concluded with hard feelings on all sides.
After two nights in Mumbai my companions left for Chennai and I stayed one day more day alone in the city waiting for my return flight to Jo'burg.
In comparison to India, South Africa is familiar and civilized.  It is true that in Africa things don't work but at least they are clean.  Here I have gotten used to many of the things that used to alarm me.  I still find it sad to see an infant sleeping on the pavement, breathing the exhaust of the passing cars, but at least the mother and her baby are familiar.  I see her every day.
I am still too immersed in my life to see how I have changed.   I know I tip more often and buy things with a sense of duty.  In my way I agree with the shop owners who see it as my role to spend money.
No matter how average, middle class and worried about the future I am in America, in the world at large I am rich. I see it as my social responsibility to spread my money around.
So I was not immune to the shop owners.  I was, however, restrained by the size of my suitcase.  I bought silk, spices and a fabulous patchwork art piece made up of hand embroidered wedding garments of young Indian brides.  100 years ago young girls of 4 or 5 years were betrothed to eligible men.  They would not move to their husband's home until the age of 14 or 15. All that time, the women of the family would be hand sewing the wedding garments.  My art piece is a second life for these remarkable pieces.
And the rupees I left in India will circulate and make a difference to people for years to come. It may not be a palace or a stone carving but it is what I am able to do.