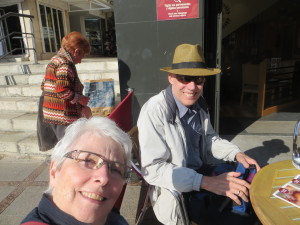 Almost two weeks now we've been in Spain and we have yet to tour the ruins of a Roman villa or the crumbled walls of a Phoenician fort.
We are slow travelers.  Our pace of travel is more like a hybrid between living and travel.  We spend our days unraveling the mysteries of the way they do it here: the transportation system, places, times and choices for eating. We spend our days walking the streets observing; comparing this place to other places: America, South Africa, Bali, Nicaragua.
I don't know if we invented this form of slow travel as an improvement on backpacking from hostel to hostel or if it is a necessary modification because we are getting old; a travel adaptation for our comfort, like doing aerobics in a swimming pool.
It occurs to me, this ability to travel slowly may be an invention of the internet.  Where, in the past, one had to be willing to land in a place with no expectations: find a place to sleep, cash a traveler's check, and send a telegram to say you've arrive safe. Now, thanks to the internet, we can pre-arrange a place to stay complete with verified photos, email or even telephone the owners who will meet us, show us around, and provide basic supplies.  Once settled, we can video chat with loved ones back home and order a pizza delivered.
The down side is, living in a flat, denies us the services of a concierge.  Our questions are addressed to Google, who now answers us in Spanish, and, even when translated to English, the answers are often hard to decipher.
The result is, despite the wonders of the internet, when traveling independently one still spends a good portion of one's time figuring things out.
For instance, we are both agreed that we would rather not burden ourselves with a car.  After years of commuting we don't need the stress of navigating traffic, finding our way around a strange country (been there, done that) and, clearly, parking is a challenge around here, so public transportation, which is plentiful but confusing, is our friend.
We've successfully negotiated the commuter train with a minimum of challenge. But the train runs on tracks.  It will only take us so far into a town.  Public buses are common and plentiful but learning the bus routes is complicated. The information that bus #124 goes to Olias is only meaningful if one knows where Olias is and why one would want to go there.
I am inclined to hop on a bus and ride it around the entire route just to see what there is to see but I haven't done it yet.
So, with the bus system still beyond our ken, it is our intention to take ourselves 100 kilometers west to the town of Ronda, a place praised by both Ernest Hemmingway and Orson Wells for its beauty and bull fighting tradition.
How to get there is our challenge. One person said, "Take the bus."  The other said, "Take the train. " Both option are outside our area of understanding so yesterday we did a dry run.
We found our way to both the train station and the bus station and asked for information.
James Michener who wrote Iberia, a huge volume on his travels in Spain in the 60's, says that Spain is a stickler for the rules.  Because, so says Michener, Spaniards are ungovernable. If the rules are not enforced the country will disintegrate into chaos.
This insight helped me understand our interaction yesterday at the information desk of the train station.
Seeking information to help us on our way to Ronda, we waited behind a line drawn on the floor for a couple to complete their business with the information officer.  When they left we stepped up to the desk. 
Do you have a number?" asked the official. I give him my "I don't understand look": a look of confusion that pretty much always produces an English translation here in this tourist area.  In return he points silently to a number generating machine like we see in the DMV or a busy deli counter back home. The machine stands in the middle of the station hall.  Afraid that we have inadvertently cut the line and consequently offered support for the broadly held notion that Americans are pushy, we meekly and hurriedly step away from the desk and make our way to collect our number. 
No sooner have we torn the number from the machine than we turn around and see our number being called on the electronic board above the information master's desk.
At the same time, the officer is solemnly directing another couple who, like us, waited politely behind the line for us to finish before stepping up to the desk, to leave the desk and return with their official number.
We about face, with our number in hand, and return to the desk. No more than 30 seconds has passed since we left this very desk. There is no one else waiting. As I approach the window, I smile at the information officer sharing the joke of the silly way this unnecessary numbering process played out. The information officer does not return my smile or appreciate the joke.
"It doesn't take long." He says deadpan.
In Spain, rules are not to be broken. Thanks Michener for clueing me in.
Note to South African Readers: Perhaps you can appreciate how, after almost 4 years in South Africa, rules that are strictly enforced and a system to make that enforcement consistent and equal for everyone comes as something of a culture shock to me.
Today it is raining. A phenomena we have not seen in a very long time. South Africa was in drought when we left with dire predictions of potential food shortages for millions of people.
Given the rain, I suspect our travel pace will slow even further, giving me time to post this and prepare for our journey to Ronda by doing some laundry.