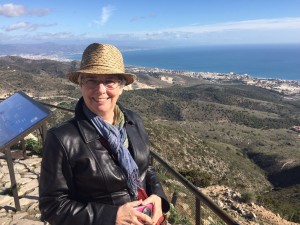 In my opinion one can either travel or one can write.  When we are moving, exploring, deciphering, learning and meeting people there is very little time to sit and reflect.  Writing is a solitary activity and sitting thinking about traveling is not actually traveling even if it is done from an Ikea table in rented condo above a nearly deserted beach community on the southern coast of Spain in winter.
I´ve been traveling, now I am writing.
It's been just over a month of travel.  We occupied this home-base flat in Torremolinos for the first three weeks of our time in Spain. Torremolinos is widely considered to be a ruined (by empty high-rise condos like the one we are staying in) community about 20 minutes west from Malaga. The guide book says of Torremolinos is "a vast, grotesque parody of a seaside resort with its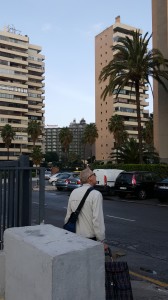 own kitsch fascination."
It is a strange place but here we are and here we will stay because it is easier than moving.
Our first weeks in Spain were the weeks of the Christmas holidays. We arrived a bit shell shocked by the whole process of leaving South Africa, our friends and our tribe.  During those first holiday weeks Torremolinos lacked any sort of kitsch. It is, as we discovered, despite its' sunny weather and Mediterranean beach, not the kind of place people choose to spend the Christmas holidays.
Many of the shops, restaurants and tourist services were closed. The many, many, many high rise condos were, still are, empty and dark. The streets and the beach were deserted and the public transportation, our only form of transportation, was on holiday schedule.
We did see a scattering of tourists, mostly well on in their years, dressed in – in my opinion – shockingly inappropriate beach attire.  Woman at least a decade older than me in halter tops and short sets, floppy hats and strappy sandals.  Men with white socks and bellies hanging over their belts; wrinkled white skin exposed to the weak winter sunlight.  We found ourselves not among the Spanish but among tourist in the most pejorative sense of the word.  Those first weeks we did little more than wandered the streets, walking for miles, finding our way around, observing.
I see now that we missed some opportunities to experience the religious fervor of a Catholic Christmas in Spain.  I now know that Christmas Day and Easter Sunday are the only days of the year that the huge doors of the cathedral in Malaga are thrown open and the choir, each with its own ancient carved chair, sings the mass.
But I didn't know that then. From our vantage point on the deck of our very un-Spanish condo, Christmas passed quietly. We walked the beach where extended families went about running the energy out of their children and ate at a Vietnamese restaurant that we found miraculously opened.
By New Year's Day we had gathered enough information to make plans.  We, rather adventurously signed up for a New Year's weekend in a boutique hotel in a small, mountain village near Ronda.  The weekend turned out to be a very good time.
The hotel proprietress and most of the guest were English speaking expats with what seem to me to be exotic life stories. Guest included: the child of1960's hippies who traveled with their four children seeking Utopia and finally settling in Estapona, a town about an hour from Gibraltar and acknowledged in the guide book for being less hideous than the rest of this over built coast.  The child of hippies arrived with her Spanish lover, a national swimming champion.  Another young couple – lovers are everywhere in Spain- currently living in London but natives of Gibraltar which is a British Colony (who knew?)
The hotel itself is located high on the hill, next to the church, in a small white village of about 90 permanent residents. The hills around this town are dotted with other white villages and the mountain sides were dotted with the smoke from the fires from the town's people burning the pruning from the chestnut orchards that are the area's primary industry.
The proprietress, Di Beech, even had an interesting story, she wrote a book about it, as a young woman she and her then husband built a sailboat off the coast of South Africa and raised their small children on board.
We celebrated the New Year dancing in the only bar in Cartajima. As the morning of the first day of 2016 wore on, the towns' people dressed in their finest, came to the bar.  We, who had walked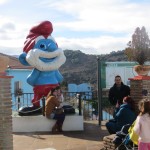 a long steep – both ways- trail to a once white Spanish village now painted blue and decorated with murals of smurfs. Left the celebration about 2:30. When we awoke in the morning the town's people were still straggling home.
The next weekend, Francesca, the child of the hippies seeking Utopia, invited us to her mother's, birthday party in Estapona. Unfortunately, the once hippie mother is now in her 80s and in failing health. A longtime resident of Estapona she has a large group of expat friends. Friends willing to pick us up at the bus station and take us to the party.  The friends include Hermione and Sylvia, British sisters who've lived in the small town of Estepona for 47 years, John and Di and their grandson from the hotel in Cartajima where we spent the New Year's weekend and Kathleen, an avid bird watcher who came to the Costa del Sol to teach English and never left. Kathleen generously agreed to rush us back to the bus station to catch the evening bus back to Torremolinos.
The next day we moved from our two bedroom, two bath, heated flat with a view of the sea in Torremolinos to our family homestay on the other side of the city of Malaga to begin two weeks of intensive Spanish classes.
I was a bit apprehensive about the home stay.  I was curious about living with a Spanish family but not sure how I would like it.
I will say, the home stay had its challenges but we managed.  We were given a room of adequate size but, in the Spanish tradition, dark and unheated.  It is unusual to find a house with heat here and standards of comfort are far different than what we Americans expect.
As it turned out, we were not the only language students in the house.  There were two "chicas", from Italy studying Spanish to advance their careers in the hotel industry in Italy and a French woman from Paris who, I think, was studying Spanish so she could move to Spain in the winters since Paris in winter is cold and expensive.
In addition to the five of us students, Señora Lucia, the dueña, also provides meals and babysitting services for two of her three daughters and her two granddaughters ages 6 and 18 months.  Quite a crowd for a bath and half.
Our accommodations came with half board.  Breakfast, consisted of strong coffee with milk and
yesterday's baguette toasted.  The toasters in Spain are brilliant. Designed for reheating the delicious breads they bake here.
Note to my low carb friends – forget it – the bread here is ubiquitous, fresh baked and served at every meal.  I wouldn't even try to explain the low carb lifestyle to a Spaniard.  You should have seen Señora Lucia's face when I told her American's eat eggs for breakfast. She was astounded and slightly disgusted.  Spaniards eat bread for breakfast.  Sometimes with oil and tomato or marmalade made from Valencia oranges but basically bread.
From breakfast we´d walk 10 minutes to our school where we studied Spanish until 1:00 with only one 15 minute break at noon.
Walking back to Señora Lucia´s we would tackle our homework before we forgot everything we´d learned that morning.  We would study either sitting on the bed in our cold room or, if we were back before the Italian chicas, in the one small spot of sunshine on the porch.  
Señora Lucia would be in the kitchen entertaining friends, babysitting her grandchildren and preparing our mi-day meal which would not be put on the table until nearly 3:00 in the afternoon.  The Spanish almuerzo is typically a large family meal, usually three courses, consisting of dishes like paella, onion soup, fried eggs over rice with tomato sauce, fried fish, lentils, croquetas and salad. With the local, delicious oranges for desert. The food was delicious and always very welcomed.
From after lunch (4:00) we were free to sit in our cold room or go into town and wander the streets.  We discovered the (heated) local public library and took to going there in the evening to study.  The library closed at 7:30 and dinner in Spain is not until 10:00 so the time between was the time we would try, usually unsuccessfully, to get a glorious combination of an unoccupied bathroom and a full tank of hot shower water. 
Around 9:00, late in the evening for us, but unfashionably early for Spain, we would put on all our layers of clothes and walk 10 minutes to the beach for a light dinner of tapas before returning to the house to bed.
We lived at this house for two weeks.  On the first weekend, not willing to hang out in our room,
we rose early and caught the train to Seville where the weather was even colder than Malaga. Unfortunately, because of the cold, we did not wander as far through the streets of Seville as I might have liked.  However, Seville has stood on the banks of the Rio Guadalquivir since the first millennium BC and it is only a 2 hour train ride away.  We shall return. Definitely when our family joins us, if not sooner.
Our school, Alhambra Instituto, besides teaching us Spanish, took us on Spanish language field trips and told us, in Spanish, of the many points of pride in this city.
Picasso was born here but (IMO) didn't seem to think much of this place.  The works on display are not his best.
This archway at the entrance to the Mercado dates from the time of the Phoenicians.  800 years before the Common Era.  Imagine!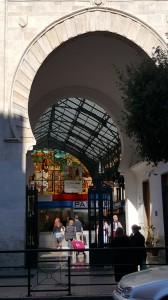 Our instructor, Andres, showed us the way to a traditional bar where the once famous sweet wines of Malaga are still served from barrels and enjoyed as a snack in the mornings.  (I surmise that sweet wine in the morning is how Malagueños manage to go till 3:00 in the afternoon on only bread and coffee.)
With the school we toured the cathedral with only one tower because – the story is told – the money for the second tower was sent to the Americas to help fund the revolutionary war.
And finally the jewel of Spain, The Alhambra. Like Seville, Granada is only a day trip from Malaga.  The Alhambra is huge; a tour takes at least three hours. 
Brief history… If you are like me, you have heard the Alhambra is one of the most visited sites in Europe but perhaps you don't really know what it is. I didn't. 
Briefly it is a Moorish fort and palace built over 500 years from the eight century to the 1300's when the Catholic Kings took control. The moors were amazing architects and artist.  The walls are covered in intricate tile work and there is poetry carved into the stone. The rooms run with fresh water and the gardens bloom with oranges and lemons.
This is a  recap of our activities over the past few weeks.
I have some self-reflecting to do and, with a couple of weeks down time in a comfortably place, I hope to do so. 
I will keep you posted.