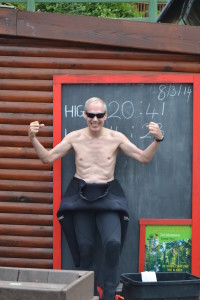 Summer is drawing to a close here and with it my weather related bragging rights. Though I expect our looming winter will still be remarkably nice compared to the snow, cold temperatures and mud slides you have seen the States this winter.
Steve and I have made good use of the summer. We had several visitors from America including my sister and her significant other and four friends from Virginia. In general they had a wonderful time. In fact, they were so inspired by their experience in Africa they have written their own reports.
Because I have been busy enjoying summer and completing a couple of other projects, (more on my other projects later) I have decided to publish their tales of lion sightings and other adventures as well as their photos in the hopes that others of you will be inspired by their enthusiasm and make the decision to visit before we leave.
You will find links to their stories here.
To fill you in on the activities keeping me/us busy this summer.
In November we traveled with my sister and Phil to Cape Town and on safari.  I will let Dawn tell the story.
In December we embarked upon our ill fated trip to Nicaragua returning in early January.
We stayed close to home in January taking in the arts (one of the perks of living in a major city) and joining walking tours to try to learn more about the history and the culture of Johannesburg.  We spent one Saturday walking in the footsteps of Nelson Mandela and learning about life in the center of Johannesburg during Apartheid. With us on the tour were some children of the famous activists of the time.  It was eye opening to hear these people remember how downtown Johannesburg used to be before Apartheid ended in 1994. Before 1994, black people were not allowed to enter the downtown district without a pass.  Failure to carry a pass could result in imprisonment.
Steve was surprised to learn he has been eating lunch just steps away from Mandel's former law office and within sight of the famous police station where so many of South Africa's finest minds were imprisoned and tortured.
On this same tour, we visited several traditional shops where sangomas (traditional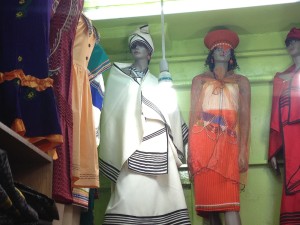 healers) can purchase strange and magical herbs and animal parts for healing and foreseeing.  I am told a person is called in a dream to become a sangoma.  Once called, one has no choice but to seek out a teacher no matter the hardship. Traditional healers are very much a part of the African culture.
Another weekend we joined a small group to tour the infamous neighborhood of Hillbrow.  Hillbrow was once an exclusive neighborhood but, after Apartheid, when blacks were no longer barred from entering white neighborhoods, the whites moved out and the neighborhood was abandon to immigrants, desperadoes, Nigerian drug lords and prostitutes.  Consequently the neighborhood has a reputation for being dangerous.  Even our tour guide, who lives on the 51st floor of a once luxurious complex, does not venture out in the neighborhood at night.
In February four friends from Virginia arrived.  We met them in Johannesburg and introduced them to our northern white neighborhood, (the place where the affluent whites tossed up when they left Hillbrow).  Tempted as we were to take off again on safari, we didn't. We let our friends travel on their own, with plenty of advice from us. We only met up with them for a few days on the Garden Coast of South Africa. I wanted especially to see the Garden Coast as I think it might be an area Steve and I would like to stay for a while.  You can see from the picture why I think so.
In other adventures, Steve and I have traveled in a balloon over the Magaliesberg mountains north of Johannesburg.  A delightful experience but frankly, walking through Hillbrow was more of an adventure.
In day to day activities I have continued to work on the supporting materials for my book and, to that end, I recently taught myself to shoot and edit video.  My test project was a contest entry.  The prize is a one month stay in Panama.  I would be happy to win but my primary objective was to learn to use the editing software.  You can see my "class project" uploaded to You Tube here.
If my efforts make the finals, I will be asking you to vote for us since crowd sourcing is part of the competitive process. So stay tuned.  I will know sometime in May.
Steve will be singing a complex piece, The Passion of Saint John by J S Bach, in German on Good Friday.  Unfortunately, I will miss it since I am headed back to the USA next week to take care of some business in Virginia.  Steve, who did not want to miss his concert, will stay here with his nose to the grindstone.
That pretty much summarizes our activities from the start of this summer to this it's tranquil end.
I look forward to seeing my east coast friends and family.  I won't make it out Seattle this trip.
Happy Spring to everyone, I know you all deserve it.