This post is for those brave souls who are thinking about getting on a plane and coming this way.
Getting Here
I believe Dutch Airline KLM has the best prices for the January to March time frame.  Based on some arbitrary late February dates I find these prices.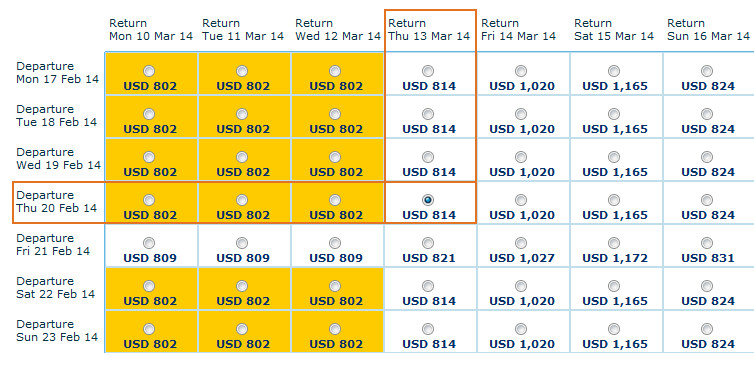 Johannesburg to Cape Town
The local airline, if you plan to fly directly to Cape Town, is Kulula.
The best place to find accommodations is VRBO-Cape Town.
Camps Bay is a bit further down the coast and is a popular spot.  It is very similar to Malibu.  Camps Bay is where the young go to see and be seen.
When Steve and I were in the Cape Town area last year we stayed even further down the coast in the fishing village of Hout Bay.  We found the drive to Cape Town took about 20 minutes and the views were spectacular.  For accommodations in Hout Bay I suggest you contact Jenny at Tobi Hout Bay.  Jenny was a great to help to us when we were stranded in Hout Bay last year.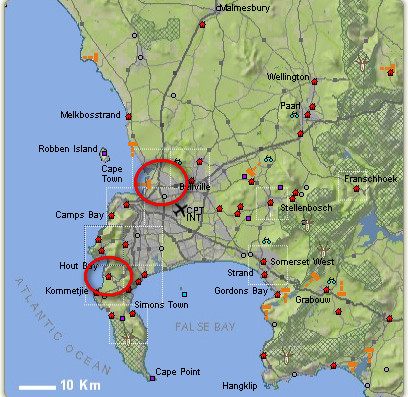 For serious bicycle riders, (you know who you are), I suggest riding from Cape Town to the Cape Point. It is not easy but well worth the effort and it would be cool to be able to say you have done it – at least as cool as riding through Iowa.
At the very end of the Cape where the lighthouse stands, there is a nice restaurant overlooking the point where the two oceans (Indian and Atlantic) meet. I will meet you there
The Garden Route
Beyond the Cape going east toward the Indian Ocean is the Garden Route, a part of South Africa I have not yet seen.  But it is on my list.
For the budget traveler I suggest traveling the Garden Route by Backpacker Bus.  The bus trip from Cape Town to Johannesburg, with unlimited hop on and hop off, will cost less than $300.  It does take some time; the minimum is 10 days, longer is recommended.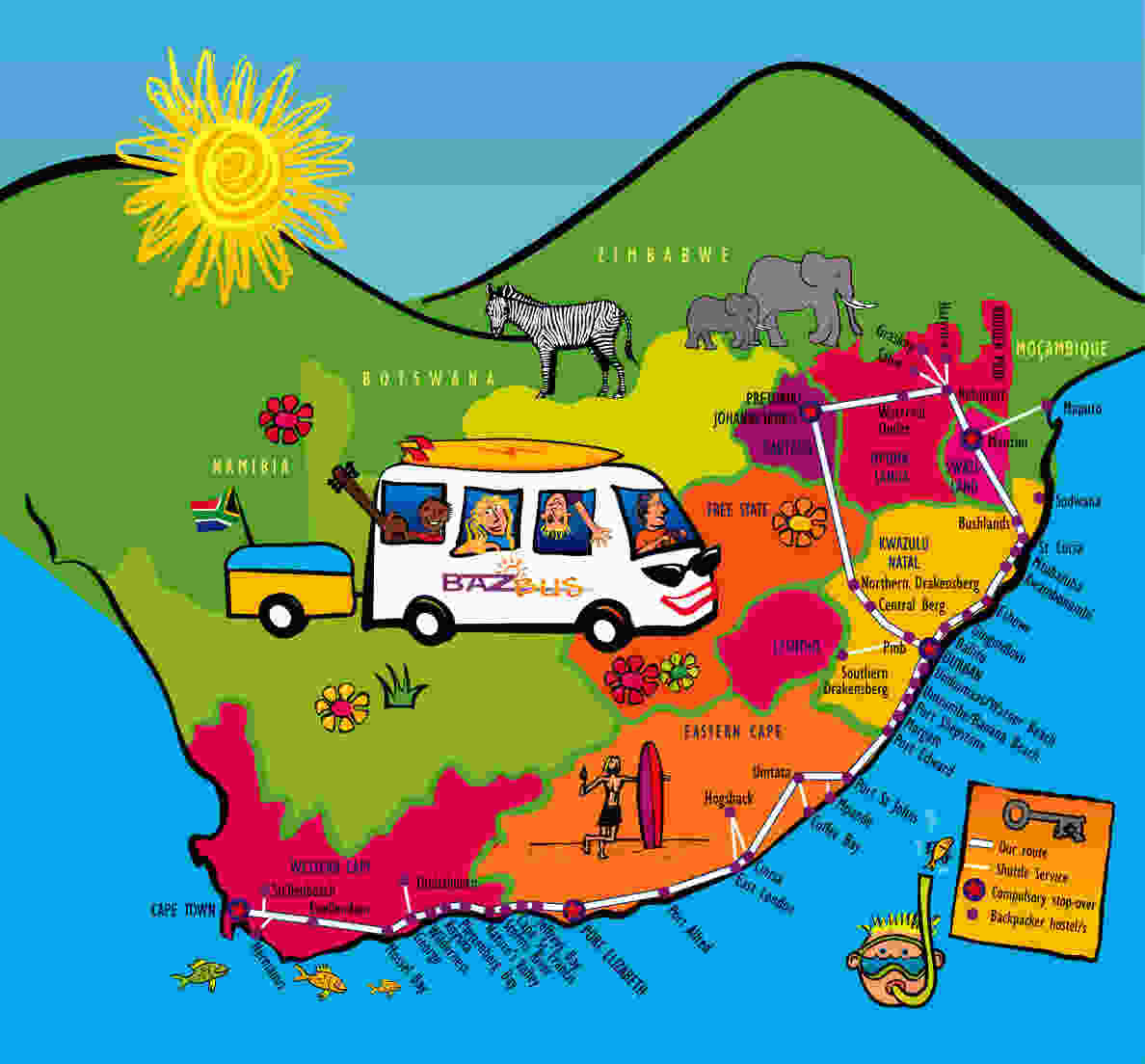 If you decide to take the bus, it is probably easiest to stay in backpackers lodges since the bus will deliver you to the door.  I have tested one backpackers lodge and found it to be clean and adequate, though I do prefer slightly better accommodations: i.e. more light, more hot water, more comfortable chairs.  If this is your choice, I believe early booking is advised.  Accommodations in South Africa fill up quickly during the summer season.
For high energy activities and frugality this trip seems the best.  Activities include:
Scuba diving
Sailing
Hiking
Mountain biking
Canoe trips up river
Whales and dolphin safari
Abseiling
Hanging out with young, energetic backpackers from everywhere
Your African Safari
Of course when in Africa one must go on safari.
There are many ways to go on safari but most tourists go to Kruger National Park. It is one of the largest game reserves in Africa but that is not to say it is the only option.
 Accommodations in the Bush Veld
The locals prefer to camp or to stay in tented sites.  Camping, of course, requires equipment that most tourists do not have available.
Beyond camping accommodations are either basic or luxurious.
Here is a site that compares the different accommodations within Kruger Park.
Standard Self Catering Rest Camps
As I have mentioned before cooking and eating outdoors is a big part of the SA culture.  Self catering, is common.  No wilderness cottage would be complete without a braai (barbeque).
For a large party I believe standard, self catering rest camps might be a good option if the site has a restaurant.
Otherwise the meals would be somewhat rough, probably grilled meat and packaged sides. Fresh food, particularly sufficient food for 3 meals a day (plus snacks and drinks) for five or more people, would be hard to manage and maintain. Also, if the traveling party is large, the transportation of sufficient food for three meals a day might be a logistical issue. Though it could be worked out I am sure.
Based on my brief research at this one site, possible Guest House Accommodations at sites with a cafeteria include: Skukuza, Satara, Lower Sabie, Pretoriuskop, Berg en Dal, Letaba, Olifants
Just for reference I checked the rates at Skukuza camp and came up with rates for a guest house where five or more people can stay of about $350 per night. Staying separately in self catering bungalows would run about $200 per night for each bungalow.
NOTE: when you are looking around be aware that rates are most often listed as pp/pp meaning per person/per night. Don't be fooled by what looks like reasonable rates.
Private Game Lodges
The primary advantage of a private game lodge is the meals and most drinks, including liquor, beer and wine, are provided; guided safaris, usually two each day, are included; the accommodations are comfortable and the service is far beyond what an average American might expect.
The routine at a private lodge is an early sunrise safari, followed by breakfast. The middle of day is down time for sitting by the pool, napping (because you were up at 5:00am) or reading. Food is constant and plentiful. The afternoon drive begins about 4:00 and is followed by dinner and sitting around the fire.  I personally very much enjoy the experience but for the restless  (again, you know who you are) you might want to pick a camp with more activities: golf or something.
Choosing one luxury tented site for reference I come up with a rate of $360 per person per night.
My sister and her significant other will be here in about three weeks and we will spend 4 days on safari at Ngala Private Game Reserve. This will be a high end trip and when I come back I will know more about the area.
Other Considerations
Kuruger is the famous place to go and offers fine viewing. However, it is about a 7 to 8 hour drive from Johannesburg to Kruger.  (Both driving and flying are options.)  There are also safari options with less travel time. Steve and I spent a weekend here and saw plenty of wildlife. This lodge is only about 3 hours from Jo'burg and is only $285 per person per night.
Here is another choice. This one is in southern Botswana. I have not been there but I hear it is nice.  Southern Botswana is within driving distance. There are also some fabulous trips in Northern Botswana, not within driving range, including a Chobe River Houseboat Adventure.
There are PLENTY of other choices: three star lodges, B & Bs, there is even hotel right outside the gate.   If you give me a budget, I can do some more checking.
Johannesburg
I know you are curious as to how Steve and I actually live day to day here in Johannesburg so a few days here can be included.  We could show you the town via a hop-on-hop off bus.  Teach you a little about mining, apartheid, and the "rainbow nation" and introduce you to the good food here.  But in the end, Jo'burg is just a big city without an historic district.  You won't want to stay here very long.
Bonus Links
If you come all the way to Africa you might want to take time to do some Mountain Gorilla viewing in either Rwanda or Uganda. (This is defiantly on Sue's bucket list).
If this is something you would like to pursue, I can ask around. Some of the guys on the project have done the gorilla viewing.  They have also climbed Kilimanjaro.  That is another option.
This should give you food for thought and plenty of fuel for lively discussion at your next dinner party ( I wish I could be there).  Let me know what your thoughts are and I will see what additional information I can dig up.