It is getting better.  Our trip out of the city to Kruger National park settled my spirit.  I just needed to get out of concrete and into nature for a while.
And Kruger is Nature with a capitol N.
Also, my business is keeping me busy with coaching clients.  In addition, I applied for a job!
The job has an endless application process.  This morning,  a Saturday, I traveled to Constitution Hill in downtown Johannesburg, (where Mandela was once imprisoned and maybe Gandhi too), for a "speed interview" with a group of 20-something Harvard graduates.
Speed interviewing in a former jail cell is all part of the Jo'berg experience. But let's get to the good stuff.
How to Go on Safari
Safaris come in all shapes and sizes.  The high end "tourist" safari includes "opulent thatched suites, with original antiques, a draped four-poster bed, private terrace, and fireplace.  Camps like this can go for as much as $2000 a night.
Steve and I had a more African experience.  We stay at a bush camp just a few miles from the Mozambique border.  Ours was not a "tourist" accommodation but more of a destination for South Africans.  It was not particularly expensive by American standards.
There are no restaurants in the bush so typically meals are included. We ate in the outdoor dining room with the rest of the guests, where we were overly attended to by our waitress named Forgiveness.  Meals are very British: lamb and potatoes with gravy, custard for dessert. Or African: chicken gizzards on pap.
We didn't starve but we would have eaten better at a high end safari. I think. I hope.
Safaris begin early. We met our fellow trekkers, Lizel and Hannes and our guide Arnot at 5:30AM on Saturday morning and boarded an open jeep for our first ever safari.
The couple we adventured with were Afrikaans from a mining town in the North.  I discovered that driving to see animals in Kruger is a very popular past time with Afrikaans.  Lizel and Hannes had been to Kruger the weekend before, camping, as they have done every since they were children.  Usually they stay inside the park in a camp ground.  They only stayed in our 'luxury" lodge because it was their wedding anniversary.  Kruger in general is Afrikaans country.  English was not the first language.
Once inside the park, there is absolutely no getting out of the car.  "The bush can eat you up" says Arnot.  Also no hanging or reaching out of the car. According to Arnot, animals see the vehicle as one large thing. When it suddenly spouts heads or arms the animals get nervous and move away.
Amazingly, if you obey these rules, the animals hardly notice the bush track traffic jams or the people with cameras clicking away.
The day was cold and windy. We drove the dirt roads of Kruger National park for 8 hours. Stopping only once at the camp ground for a "breakfast" of cheese sandwiches and boxed juices. This was also our only toilet break because, really, you can not get out of the car.
In our eight hour tour we saw the big five:
Water Buffalo:  first thing just as we drove across the river. I wasn't even awake yet.
Hippo: in the same river, but I think I might have been looking at rocks.
Elephants:  Many elephants, in fact. One was so close we could have spit on him.  I was ever so grateful to be with Arnot.
Here is why I was grateful to have a guide.
Lion: An entire pride walked around us without out so much as giving us a second look.
Leopard: Hannes and Lizel wanted desperately to see a leopard, even though they had seen seven the weekend before.  We did catch a glimpse of one but she was moving way – because people were hanging out of their cars taking pictures.
Here is a slide show of Steve's photographs.
It is possible to skip using a guide and "self drive" through the park but, I don't recommend it. If Steve and I had tried to do it on our own we would have missed almost everything, except for impala. There are 100,000 impalas in the park so they are hard to miss. On our own we would have come away thinking " Just a bunch of impala, what's the big deal?"
"The animals are not meant to be seen." says Arnot.
This impala carcass in a tree, dragged there by a hungry leopard, we would surely have missed seeing this.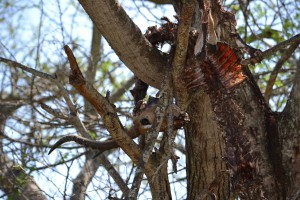 When you come, (you are coming, right?) definitely take a guide. The guide's ability to see animals is amazing.  Arnot could spot rhinos that looked to me like nothing more than slowly moving rocks.
 Interesting but Not Useful Information
Since going on my first safari my mind is full of interesting but not, to an American, useful information.
I can tell a black rhino from a white rhino from a distance.
I know the social organization of impala herds.
 I know how to spot a leopard in long grass by the white tip of the tail
I know that giraffes have a way to regulate their blood pressure so they can lower their heads without causing a stroke.
I know that lions chase giraffe onto the tar roads, where the giraffe slip and fall. When they fall, their regulator does not work, since technically they are still upright, and the giraffe dies of an aneurism before the lion gets to them.
I know that male lions are slow.  They are only successful in 30% of their kills.  That is why they steal from the female lions and lay around the rest of the time.
The rhino is heavily poached. During 2011, 448 rhino were killed for their horn in South Africa alone. One kilo of rhino horn sells for $40,000.  The Chinese use it in medicine and in some Arab counties rhino horn is prized for dagger handles.  Protecting the rhino is something people are very aware of here.
I will close with a few food photos since I've had a request to share a little about the fabulous food in Jo'berg.  These are photos from the Saturday marketed in Jo'berg.  We stopped by after my "speed interview" this morning.
Please comment and let me know how all this fancy multi media is playing on your equipment.  It is a little slow on mine.